Lake District and Local area Helicopter Flights from Carnforth
All the following flights are sold as vouchers which can be redeemed at any of our 2013 Greenlands events and so make an ideal Christmas present!
The next few dates for our Lake District and 'Carnforth Local' scenic helicopter flights from Tewitfield near Carnforth are detailed below. We usually start an approximate 6 week schedule from Easter and through summer 2013 depending upon demand.
Sunday 31st March and Monday 1st April 2013
Sunday 5th and Monday 6th May
Saturday 1st and Sunday 2nd June
Saturday 20th July
Sunday 25th and Monday 26th August
Vouchers available below are not date specific and are valid for the full year.
You may book onto one of the above dates if you wish, just let us know.
As always, it will be from Greenlands Farm Village (see map below) which also provides plenty to keep the family occupied while you head off to explore the Lake District from the Helicopter!. All the flights will be flown by an experienced local pilot with extensive knowledge of the area who will be able to help you find areas and villages of interest to you.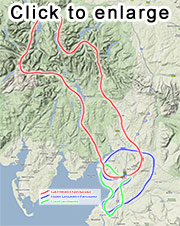 "Local Landmarks"
A fantastic opportunity to see local landmarks from the air: Fly over Warton Crag to Silverdale and beyond before heading out towards Morecambe Bay. Follow the coast from Carnforth to Bolton-le-Sands and Hest Bank then turn inland for a birdís eye view of the historic City of Lancaster. Return to Greenlands, following the Lune Valley east to Halton and then overflying Kellet and Capernwray.
Unbeatable value at £74
Please note, these flights are now only sold online in groups of 3. Single seats are available last minute only.
"North Lancashire Panorama"
A comprehensive tour of the northern reaches of the county, taking in four distinctive areas: Leave Greenlands for Silverdale, Arnside and the Kent Estuary before heading inland. Enjoy dramatic views of the South Lake District hills then turn east to join the Lune Valley at Kirkby Lonsdale. Follow the river on its journey to the sea via the historic City of Lancaster, once an important port. Finally, see Morecambe Bay in all its glory: Overfly Morecambe and follow the coast north before returning to Greenlands via Carnforth.
An interest-packed itinerary for just £130
"Lake District Spectacular" - The one that does it all.
For a really breathtaking experience, join us on the ultimate Lake District tour: Fly out over Silverdale, Arnside and the Kent Estuary before heading north for the Lake District. Overfly iconic Lake Windermere and enjoy close-up views of the Langdale pikes. Look down on Scawfell, Great Gable and Dale Head. Fly the length of Derwent Water and see Keswick from 2000' en route for Thirlmere and the mighty Helvellyn. Continue via Ullswater, Patterdale and Troutbeck for spectacular views of the Lakes, Morecambe Bay the Yorkshire Dales. Bidding goodbye to the Lake District, head south once more with a chance to see the ancient market town of Kendal before returning to base.
A truly memorable flight for £220
These flights are a great opportunity to see the Lake District and the Carnforth and Lancaster area from a helicopter without paying for the flight all the way from Blackpool. We are able to offer this incredibly priced opportunity because the positioning cost is shared by everyone who flies on the day (included in the quoted price) and therefore relies on minimum numbers.
We are currently taking bookings for the 2013 events and seats can be purchased through our online boooking system by clicking the appropriate button. These flights make an ideal gift and so e-Vouchers are also available. Please indicate recipient during payment process if required.
The required minimum numbers are usually reached every four to six weeks during summer and we update this page with the next flight date shortly following the previous one.
n.b. The above descriptions should be used as a guide only as the weather can influence the exact route. If an alternative route is taken, you will still receive the same total flight time.
Other flight routes are possible upon request and as always, are dependant upon the weather.
Max passenger weight for these flights is 20 stones, please inform us as soon as possible if any passenger weight is expected to be over 17 stones. The above details are in addition to, and superceed where applicable, our standard terms of business and for the purpose of these terms and conditions, a voucher becomes a booking once your flight date has been set.
Feel free to contact us if you have any further questions.