Aerial filming & Photography
Helivation complete our filming operations in conjunction with our partners at HeliSpeed Ltd. and so are able to deliver an even better service, from even more experienced pilots, with access to even more equipment and able to cover an even greater area!
BBC and ITV Approved Supplier
We are proud to be on the Approved Suppliers list for the BBC and also for ITV and can therefore provide an aerial platform for photography, filming and reporting. Being based in the North West, we can now bring a much needed service to both networks in this area; and look forward to being able to share our area with others!
All this has been possible due to the exceptionally high standards to which we operate, are monitored and are insured. See our home page for details of our CAA AOC certification.
A selection of filming credits
Adidas TERREX Coast to Coast adventure race with Dream Team Television
In August 2011, we provided the aerial platform for the filming of a 4 day adventure race along a particularly arduous versions of the coast to coast route. This was in conjunction with Dream Team Television and the full television coverage can be seen on Dream Team's website. Episode 1 and Episode 2.
Thanks to everyone involved for a very professional filming operation.
'The Lakes 2'
The aerial footage for the current series of the very popular ITV series 'The Lakes' starring Rory McGrath, was filmed by Helivation during the summer of 2010. The first epidode was broadcast on Monday 3rd Jan at 8pm on ITV1 and runs in this slot for 12 weeks...watch out for some amazing aerial footage and Rory on top of a hill....but did he walk there?.... CLICK HERE TO WATCH THE FIRST EPISODE
Adidas Terrex Lakes 2010 adventure race with Dream Team TV
In August 2010, we provided the aerial platform for the filming of a 4 day adventure race around the Lake District. This was in conjunction with Dream Team TV and a preview of the television coverage can be seen on the Adidas Terrex website. The full coverage was broadcast on Channel 4 on Sunday 7th November at 7:30am for 1 hour although it is still available on 4OD by CLICKING HERE
Thanks to everyone involved for a very professional filming operation.
Polar Explorer Documentary
Working with Dumpling Productions during summer 2010, Helivation filmed the aerials for a web-based documentary about Ben Saunders and his solo attempt on the North Pole. You can view the full documentary by CLICKING HERE
About our pilots and equipment
Experienced Pilots
Capturing the perfect shot/film from a helicopter combines both the skills of the photographer with the skills of the pilot. It is therefore essential that the pilot has an understanding of the composition, angles and speeds required by the photography expert. This is something that can only be achieved by drawing upon experience and our pilots are exceptionally experienced in aerial filming and photography. It is also important that the photographer has an understanding of what is available from the helicopter and equipment combination. Because of this, our pilot will work closely with you prior to the flight to help capture that perfect shot in the most efficient and expeditious way possible.
We have a number of different filming solutions available to enable you to make the most of the aerial platform given a particular task and budget; details of some of these are shown below.
Tyler Mini-Gyro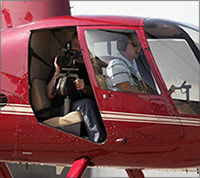 Ideally suited to small and light-weight cameras and lenses, the MiniGyro shoots from right or left side and provides pan, tilt and roll; great for air-to-ground or air-to-air, and fast action sequences. Straight-forward shots can be made by crabbing the helicopter sideways. The MiniGyro's compact size and simplicity makes it very versatile, portable and cost-efficient piece of equipment; and is also a superb still camera stabiliser.
Click here for the Tyler Mini-Gyro spec sheet

Tyler R44 Ball Mount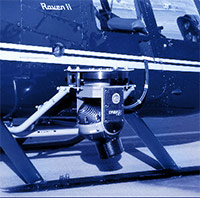 The Tyler ball mounting system attaches to the helicopter skids and provides a very stable, gyro stabilised platform for high qualify filming. The camera can be mounted to either side of the machine and can take full panning shots from forward to rear without capturing any of the helicopter.
Click here for the Tyler Ball Mount spec sheet

Excellent location
Due to being based in Blackpool, we can position a filming platform to Liverpool, Manchester, Blackburn, the Forest of Bowland, South Lakeland and the Isle of Man within 30 minutes and can be into the Yorkshire Dales and Northern Lake District in only 45 minutes!
This enables us to be in a position to film for many of the television programs based around Manchester, the Olympics, the TT races and endless opportunities for coastal, inland and mountain filming.
3D High Definition filming
Helivation is currently in the prototype design and manufacturing stage of a gyro stabilised camera mount for aerial filming in the new 3D HD format using the R44 Helicopter! This development project is taking place in conjunction with a senior Sony engineer.
The project is focused on developing a cost effective solution for the new generation 3D High Definition broadcast cameras on an aerial platform. We are also developing this platform to produce broadcast quality moving stereo imagery from still photographs.
3D HD filming is a cutting-edge technology still in the early stages and yet manufacture of our first working prototype is well under way and should be up and running within the next few weeks. Expect to see progress updates on here including, of course, some of the results!
If you need any further information on any type of aerial filming please contact our Chief Pilot.