Helicopter Trial Lesson Gift Vouchers
"The perfect gift… or the start of a new hobby or career!"
The Helicopter Trial Flight is an exhilarating hands-on flying experience. It can be a taster flight for yourself, if you are interested in learning to fly, or be given as a very special present. The Helicopter Trial Lesson from Helivation Training is a special gift that will be remembered!
We operate our trial heicopter lessons seven days a week throughout the year from our bases in Blackpool and Manchester. The flight can be booked at the time of purchase or the voucher holder can book a date and time convenient to them. Gift vouchers are valid for six months from the date of purchase and we will email them to you as an eVoucher.
R22 ½ or 1 Hour Trial Lesson (for 1 person)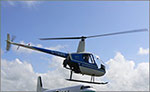 You will be greeted by your pilot upon arrival who will personally go through the event with you. You will be shown around the helicopter both inside and out and your friends and family are welcome to join in with all this. You will then take to the skies for a fantastic hands-on experience. If you wish to fly over a specific area on your flight then this can be discussed with your instructor
Additionally, time spent on your trial lesson can be logged and used toward the hours needed to learn to fly.
PLEASE SEE PRICING PAGE FOR DETAILS
R44 ½ or 1 Hour Trial Lesson (for up to 3 people)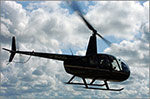 As per the R22 ½ or 1 hour trial lesson, where one person can experience the art of piloting a helicopter, whilst two additional adult passengers can come along with you to enjoy the scenery!
The R44 is a larger, faster and more powerful machine and is also a little easier to fly. If you are wanting to go and look at a specific area on your flight we would recommend the R44 as you will cover more distance during the flight.
PLEASE SEE PRICING PAGE FOR DETAILS
Introductory day – R22 / R44
This is an ideal experience or those who may be considering obtaining their Private Pilot's Licence - PPL(H). Upon arrival you will meet your instructor for the day. The day is based upon one-to-one tuition and your instructor will be pleased to discuss with you your individual needs and requirements to get the most out of your day, which includes:
Introduction to Helicopters - the effects of the controls before taking your first flight of the day

Take to the skies and have hands-on flying experience

Debriefing and lunch

Take to the skies again for a navigation exercise, where you can really experience the freedom of helicopter flying and enjoy spectacular views

You will also be introduced to low level flight exercises which include: spot turns, sideways and backwards flying, quick stops and hovering

Receive a certificate upon completion
Additionally, flying time during your introductory day can be logged and used towards the hours needed to learn to fly!
Your day will include just under 2 ½ hours in the helicopter plus ground briefings and lunch.
PLEASE CALL US FOR PRICING AND BOOKING
IMPORTANT INFORMATION ABOUT ALL TRIAL LESSONS
Additional Information Regarding all our Trial Lesson Vouchers
For flights in the R22 helicopter, the person flying MUST be under 6ft 2" tall and under 16 stones (224 lbs / 102 kgs) in weight. This is due to the operating limitations of the type of helicopter used. If the person flying is over this, you will need to choose the R44 helicopter. For flights in the R44 helicopter, any person flying MUST be under 21 stones in weight (294 lbs / 130 kgs). We reserve the right to weigh customers prior to flying.
All persons flying must be able bodied and able to get themselves in and out of the helicopter unaided. Gift vouchers are none refundable and valid for 6 months from the date of purchase.
How to book to use your voucher?
Please call us on 01253 405 945 to book and quote your voucher number. You will also be asked for your name, voucher type, contact telephone number and for your weight and height. All vouchers must be used prior to the expiry date. Please try to book at least 2 weeks in advance however, we do not always need this lead time, so feel free to call us and see.
What Should I Wear?
Special clothing is not required for your lesson, although flat shoes (not sandals) and comfortable clothing suitable for the time of year should be worn. Sunglasses are advisable at all times of the year.
What About the Weather?
Flying is weather dependent. Once the day arrives, please call us on 01253 405 945 to check that conditions are suitable. Helicopters are very versatile and we are able to operate most of the time. If your flight has to be postponed due to weather, you will be able re-book a mutually convenient date.
Are Spectators Welcome?
Spectators are welcome at their own risk, a maximum of 4 per customer, but they will not be able to accompany you in the helicopter. They will be able to watch you and will be advised of the best viewing area to watch from.
The 'Small Print'
Our aim is to ensure that you enjoy your helicopter trial lesson. Please kindly note the following and remember that the rules are here to keep us all safe!
Your gift voucher is valid for 6 months from the date of purchase and is not extend-able or refundable. A charge may be made for lost vouchers.

Once a date has been booked to use the voucher, a minimum of 24 hours notice must be given to change the date of use. Failure to provide such notice will render the voucher invalid and no refund or reimbursement of monies paid will be given.

We reserve the right to weigh customers prior to flying.

For obvious reasons, please ensure that you are in good health and if in doubt please seek medical advice from your GP.

At our discretion, we can refuse to fly any person suspected of having consumed alcohol or drugs within the previous 24 hours.

Flights may be subject to cancellation at short notice due to weather. Please call to check the conditions prior to flying on the day.

No loose articles are allowed in the cockpit.

Use of cameras will be at the discretion of the instructor. No video cameras allowed due to Airport Security and confined space in the helicopter.

Those who do take any personal items (such as cameras) on flights, do so entirely at their own risk.

Flight time is measured from the moment the helicopter is started up (engine is turned over) to the time of shut down, as going through the various checks etc. are all part of learning to fly.

This voucher is not transferable or extendable unless authorised by a member of staff.

Standard Helivation Ltd. Terms and conditions apply. (see main menu)