Helicopter Charter Price Guide
The most popular helicopter we use is the Robinson R44 which has four seats (therefore 3 passenger seats). Machines based at Blackpool airport and Manchester fly at a rate of £660 per hour
Alternative machines are available including twin engine helicopters (Squirrel and A109) but please contact us for prices and availability for your area
If you require collection from somewhere other than Blackpool Airport, we must first position the machine to this site, and then return it back to Blackpool after the job. This positioning is chargeable at the same rate.
A guide to flight times from Blackpool is included below. Please use this as a general indication only and be aware that certain routing restrictions can apply such as controlled airspace; please contact us for a specific quote.
n.b. To enable us to land at a particular location, we require written permission and for the site to be assessed as suitable. Operational restrictions mean that this machine cannot fly at night or inside cloud and also cannot cross large expanses of water.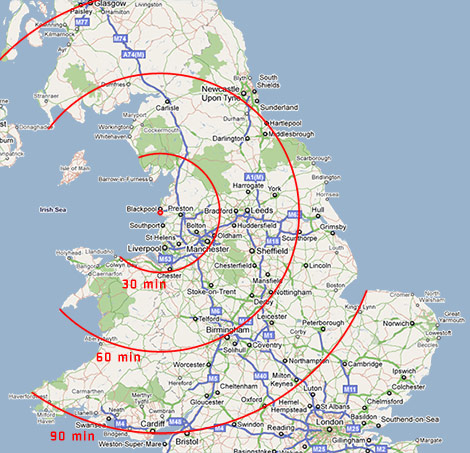 For example, collection in Manchester and drop off in the Lake District would result in the helicopter flying from Blackpool to Manchester, on to the Lake District and returning to Blackpool with an approximate total flight time of 1.5 hours and therefore a cost of £990.