Helicopter Flight Gift Vouchers
The majory of these flight packages are available elsewhere on our site but we have generated this page to highlight which ones are particularly suitable as gift vouchers. You can purchase these vouchers at any time using our online system and a voucher will be emailed to you. You do not need to set a flight date when booking and with the exception of the flights from Carnforth, they are valid for 6 months. Please give us a call if you have any questions.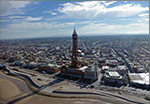 All flight packages are sold on a per-machine basis so are valid for up to three people; apart from the Lake District Flights from Carnforth that are sold per-seat.
You can also customise a flight to any destination and of any length and we can generate a voucher so it becomes a very unique present - please contact us to discuss this.