Flights to & from the magical Piel Island

The Piel Island Experience
Come with us from Blackpool on a fantastic tour of the whole of Morecambe Bay and landing at Piel Island near to Barrow. You will then be able to visit the famous Ship Inn for a meal or refreshments and personalised tour of the island and castle by the royal family (yes really!) before taking a tour of the island from the air and then returning to Blackpool.
This special flight is available for up to three people in each helicopter and enables you to explore the beautiful Morecambe Bay area including nature reserves, forests and coastal resorts and then visit the island for breakfast, lunch, afternoon tea or a very special evening meal; all with local line caught fish, fresh game and meat either born and raised on Piel or from local cumbrian farms.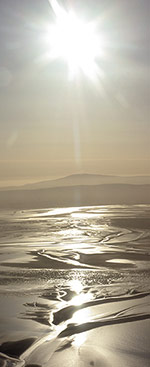 The experience will commence at our executive facilities at Blackpool airport with either fresh coffee or a glass of champagne. The flight will then depart and head over Blackpool and the Fylde coast to Glasson Dock, the historic city of Lancaster and on to Carnforth which is famous for its railway, Steamtown and being the setting for the film "Brief Encounter". You will then turn west over the beautiful areas of Silverdale, Arnside and Grange-over-Sands before heading south down the Furness Peninsula. This route gives you an amazing view of both the coastal towns and villages and also the Bay itself and whether you are from the area or not, seeing all these sights from an aerial perspective will certainly be something you will remember.
Piel Island is located off the southern tip of the Furness Peninsula and is approximately 50acres in size. The island is home to the 13th century 'Piel Castle' and the 18th century Ship Inn which is inhabited by the King of Piel (and family) who is the landlord. Visit the Piel Island and Ship Inn website for more details.
After a relaxing visit to Piel Island, you will have an opportunity to have a good look at the island from the air before returning to Blackpool via a similar route.
Prices for this package start from £780 for up to three people; depending upon exactly what you wish to do on the island.
Scenic flights from Piel Island
On certain days throughout the year, we are able to offer scenic flights from Piel Island near to Barrow taking in both the local area and even the Lake District from this rather unique and unusual location. Prices start from £85 per person for a tour of the local area.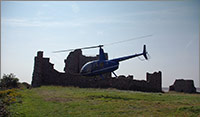 Other flight options are £145 per person for a tour of the Lake District lasting approximately 30 minutes and £240 for the full 50 minute tour covering practically all of the Lake District.
Please call us for more information and to book.