Discounted Positioning Flights and Self Fly Hire
We frequently re-position helicopters and travel with empty seats. On these occasions, we offer these seats out for free so as not to waste them. Full details for this and a registration form can be found on our FREE SEATS PAGE.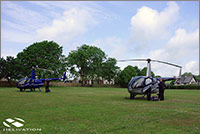 However, there are also occasions where the helicopter positioning time/cost cannot justify the reason for the positioning and so it is unlikely to take place. This situation has proven in the past to be an excellent opportunity for licence holders looking for very cheap flying experience either as hour building or as a way of going to different destinations. All these positioning flights will be for a reason and so there will be a commercial pilot coming along as well so it can be a great opportunity for the licence holder to fly to sites that they will usually not have to opportunity to and even fly in conditions they would not normally be completely comfortable with. On some occasions, the flights will be one-way and on others there may be a task to complete on-site before a return flight. In either case, the positioning hire rate will be calculated to be mutually beneficial for both Helivation and the 'Self-fly positioner' and although start and end points may be fixed, routing between is likely not to be so you can take the opportunity to log more hours at the reduced rate!
These opportunities are also excellent for CPL holders who do not yet have experience of working in a commercial helicopter environment. It will give you the opportunity to not only log cheap flying hours in a relevant machine (i.e. not a S-300 or R22) but also give you experience of actually going on some commercial jobs to see how it all works.
Due to interest in this idea so far, we have decided to generate this page including the registration form below. If you would like to be informed of opportunities for these positioning flights, please complete the form and we will contact you if appropriate.