Lake District Helicopter Flights
Specialists in the Lake District and surrounding areas.
Helivation are based in Blackpool which is the closest helicopter base to the Lake District and can be in the middle of the Lakes in under 30 minutes. Not only this but we also have an in-house pilot with extensive mountain flying experience and an intricate knowlwge of the Lakeland fells. He will be able to safely guide you through the hills and point out many things along the way.
We can provide fantastic pleasure flights to and around the Lake District from our base in Blackpool, Lancashire; and this could even incorporate landing at a hotel for afternoon tea! However, on specific days throughout the year, we also offer Lake District flights from Greenlands Farm Village near Carnforth.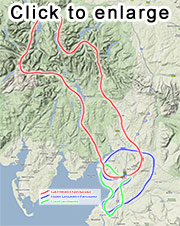 (This map is included on this page for reference. Please click the map or the link above to head to the page dedicated to these flights.)
These flights are a great opportunity to see the Lake District and the Carnforth and Lancaster area from a helicopter without paying for the flight all the way from Blackpool. We are able to offer this opportunity because the positioning cost is shared by everyone who flies on the day (included in the quoted price) and therefore relies on minimum numbers.