Whitehaven 2013 Pleasure Flights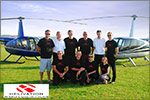 We are hoping to be flying from Whitehaven festival again this year providing we can resolve the land ownership issues that came to light in 2012. Fingers crossed for 2013!
The following provides general information about the 2011 event for reference
The pleasure flights will hopefully take place throughout the weekend of the Whitehaven Festival and follow a very similar format to previous years (Click here for photos of the 2010 event).
Flights will last for approximately 5 minutes which incorporates flying right around the town and surrounding area and a fantastic view of the festival site all for only £25 (inc. vat) per person!
Helivation's Whitehaven Heliport will be located near the Haig Colliery but in a slightly different location to 2010 and there will be a free bus operating again all day from the town centre to the Heliport. There will also be a ticket office located at the harbour selling pleasure flight tickets by cash and card payment but only cash payments accepted at the main Heliport.